And I am back again with another beautiful small business.
If you know anyone who deserves to have the spotlight on them, a small business who shares amazing products and messages, get in contact with me via my Instagram @a_little_inisght so I can feature them in next weeks blog! If you are one of these small businesses – don't be shy! Let me know if you want to be featured.
Handmade By Meg
Meg Neil is a Fine Art student at the University of Northampton, starting her 3rd Year in September. She tells me she chose to study Fine Art to "explore (her) creative practice. further on from A-level as I wanted to see how far (she) could push it". In the holidays she sells artwork through commissioned pieces as well as any requests people make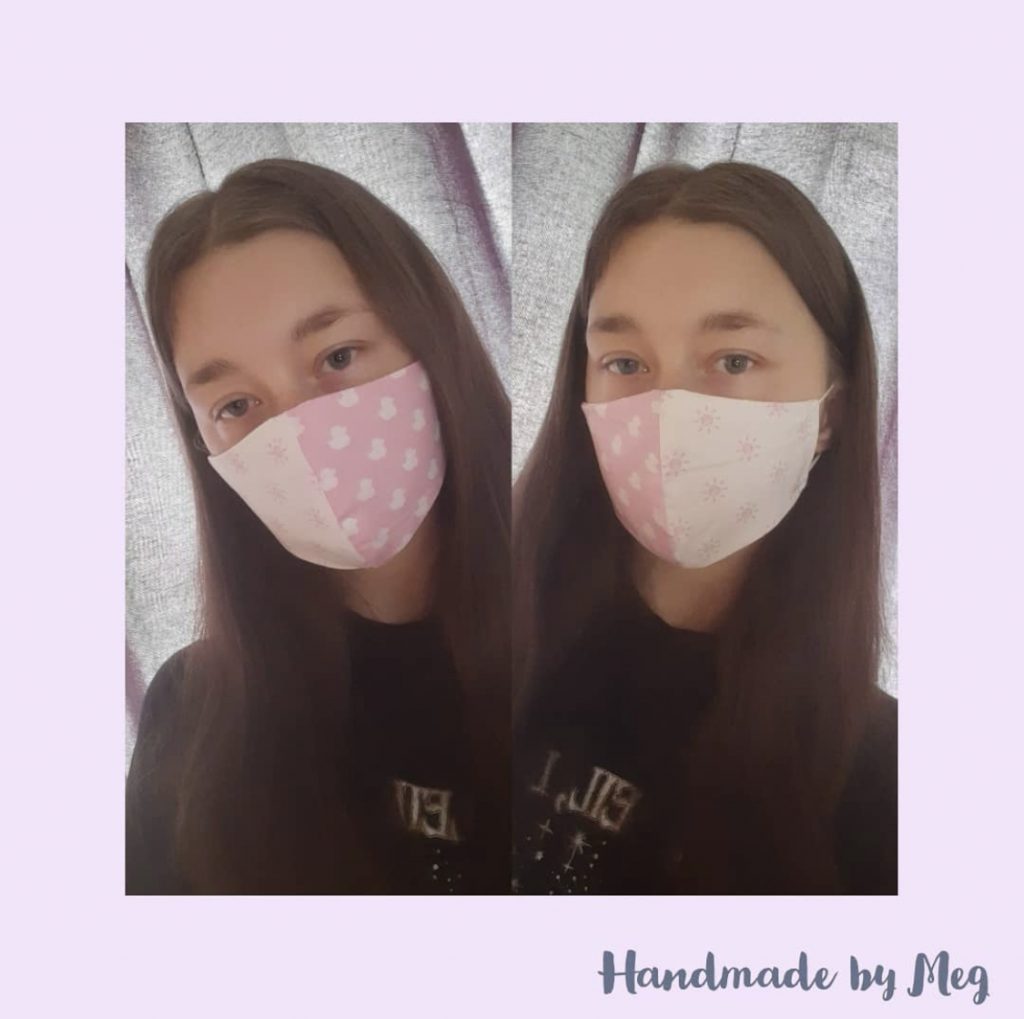 Due to coronavirus and the struggles that come with it Meg says that she "thought to put my creativity to good use by starting to sell face masks as they're not only pretty but help people adhere to the government guidelines and help them to feel safe!", what a lovely mindset!
Your patterns are so lovely! Its great to see creativity in this crazy time! What made you decide you were definitely going to start up your little business?
The inspiration behind starting my little business was my Mum! She taught me to sew the facemasks, to make them for family, and I thought about how lovely it would be to share them with everyone! I felt absolutely certain about starting up my little Handmade by Meg business at this time, especially starting with face masks; as of course everyone needs a mask and these are perfect face coverings for going into shops and I have patterns to suit all tastes I believe.
Tell me more about your charities that you have chosen – why those and how come you are donating.
So, the two charities I am supporting are the RNIB and Guidedogs UK! I have decided to share 20% of profits from my facemasks between these two charities for a few reasons.
My father is registered blind and I felt like I wanted to support these charities in some way as I know from my father's experiences how difficult it can be without support! The RNIB and Guidedogs UK both do great work and so that's why I've chosen to support these two charities whilst I'm selling my facemasks.
You seem so creative, do you have any other creative outlets?
I'd definitely say that being creative is a passion of mine! I love all things arty and crafty! I have another instagram page which I use to share my art with people @megneilart. As I study Fine Art at uni I share content from my course on there as well as some recent commissions and other requests from customers.
Its great that you are making safety not only easy for people but pretty! How safe have you been feeling in the lockdown period?
On the whole, I've been feeling pretty safe, I don't feel too panicked by it all and I know others can be a little more intimidated by the circumstances which is understandable. But when I came back home from university I had to be a little more careful as, we as a family, we're shielding my father because he was classified medically vulnerable.
How do you want people to feel when wearing your masks?
When people wear my masks I'd like them to feel safe, but not only that, comfortable. My masks have had only positive feedback so far and I've sold over 40! They're less bulky on the face and just fit nicely – whilst still covering your nose and mouth of course. I also have such an array of unique fabrics that allow for a sense of individuality and bring fun into these still rather challenging times.
How long does it take to make one mask?
I'd say about 20 minutes – I like to take my time making sure the elastics are identical and the stitching is in perfect straight lines.
Which fabric is your favourite?
This is a tough question! I like the more subtle fabrics on myself I love the 'Gingham Dragonflies' fabric but I think they're all great and suit different people.
How do you make sure that your products are going to be comfortable?
There are two main things I aim to keep consistent and they are: using cotton fabrics and using thin (but strong) elastic for around the ears! As I find if the elastic is thick it's not comfortable at all! Everyone who I have sold masks to have complimented the comfort of them greatly!
Do you enjoy making your masks?
I absolutely love making them! When I get an order I'm so excited that I work on them that same day if I can! I just think making them is so therapeutic and its just so much fun! I love the whole process.
Are you going to create other things as well as masks?
Well, when I go back to uni I will no longer have access to a sewing machine (as the one I'm using belongs to my mum) however I am planning to continue Handmade by Meg – by making crochet items like scrunchies, bags and earrings as well as custom embroidery hoops.
How does it feel when people order/wear your masks?
I just feel so honoured that people are interested in the patterns and the shape of mask that I sell! I am always so thankful for any orders that I recieve and I feel so privileged that I have had the chance to sell masks, helping people to feel safe and giving a little money to charity to help them too!
You can find Meg's masks online on Etsy and Instagram!
Loving local shops and supporting small businesses really isn't that hard, plus with such gorgeous products, like the ones highlighted in this blog, how can you say no? Seeing businesses grow is beautiful, especially for the people behind the products who work so hard at developing and creating them! Be sure to give these small businesses a follow and check out their websites!

Look out for another 'Loving Local and Supporting Small' blog next time!